Thank you Readers! I am excited to share the news that my blog has been selected as one of the top 75 art blogs by Feedspot. My blog came in at number 15! This blog has been a tool for me to keep my painting everyday. I am happy to share my journey as I strive to be the best artist possible. The blog gives me a chance to share what I discover. Thank you for being a part of my journey!
I am in excellent company on this list of art blogs. There are many that are new to me and I am excited to discover new ideas and artists. So get comfortable, grab a cup of your favorite beverage and prepare to discover some wonderful art blogs!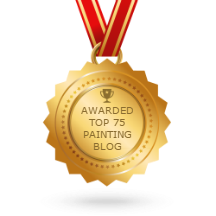 Thank you very much to Feedspot for including my blog in your list of the top 75 art blogs. I am honored!
Painting notes: Today's painting is another study done on Pastelmat paper.